Links



This page records all significant changes to the site:
March 6, 2011 -- improved the layout of the article about the Byzantine Empire and also added images to it.



April 2, 2010 -- created a new shell, and improved the main page and Julius Caesar, the Latins, the Sabines, and many other articles.



September 28, 2009 -- added a site map, xml map and an url report. Added some scanned images including a Map of the Roman Empire and also illustrations to various topics including the city of Rome
September 26, 2009 -- a day after being crawled the content of the site is added to the google index and the site gets its very first visitor. The search term used is: "5 ways romans empire can decline"



September 25, 2009 -- the site was crawled by Google the first time.



September 13, 2009 -- added the first articles to the site. The site is still in beta as there are no graphics and the navigation is still fairly rudimentary. Subsequent builds will add more content and crosslink the pages to make it easier to explore the site.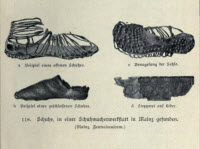 Roman Footware



Advertisement